قاضی فتح اللہ صدیقی شطاری اور ان کی کتاب ''خزائن فتحیۃ الاسرار'':تجزیاتی مطالعہ
Qazi Fathullah Siddiqi Shattari and his representative book Khzain Fathiyat ul Asrar An Analytical study
Keywords:
Shattari, Khazain Fathiyat ul Asrar ،Saint, Hassan, Ruhtasi, Dars Sharif, Aghaar
Abstract
Qazi Fethullah Siddiqi Shatteri belongs to the set of Shattari Saint. His ancestors migrated from Arabs and settled in yeoman after that Seestan and Khorasan was the place where his family's saint Shaikh Qawam u din came in the subcontinent. They started residing permanently near the city of Delhi in Estrin Punjab. Muhammad Hassan Ruhtasi said him to settle in Jammu and Kashmir in the western part of the city Mirpur, where the Hindus were in majority. They were given the work to preach Islam, like Syed Ali Hamdani, s ideology. He reforms the government and common people that is the way he got success in his region. For the upcoming generation's guidance, he works a book "khazain fathiyat ul Asrar' 'in Persian and Arabic language. This book is unpublished and it is situated in Dears Sharif (Aghaar) kotli AJK, his family remains busy in social and religious activities. In this article, we will present an analysis of Qazi Fethullah Siddiqi religious and social services so that the services rendered for your Islamization can be introduced to the public.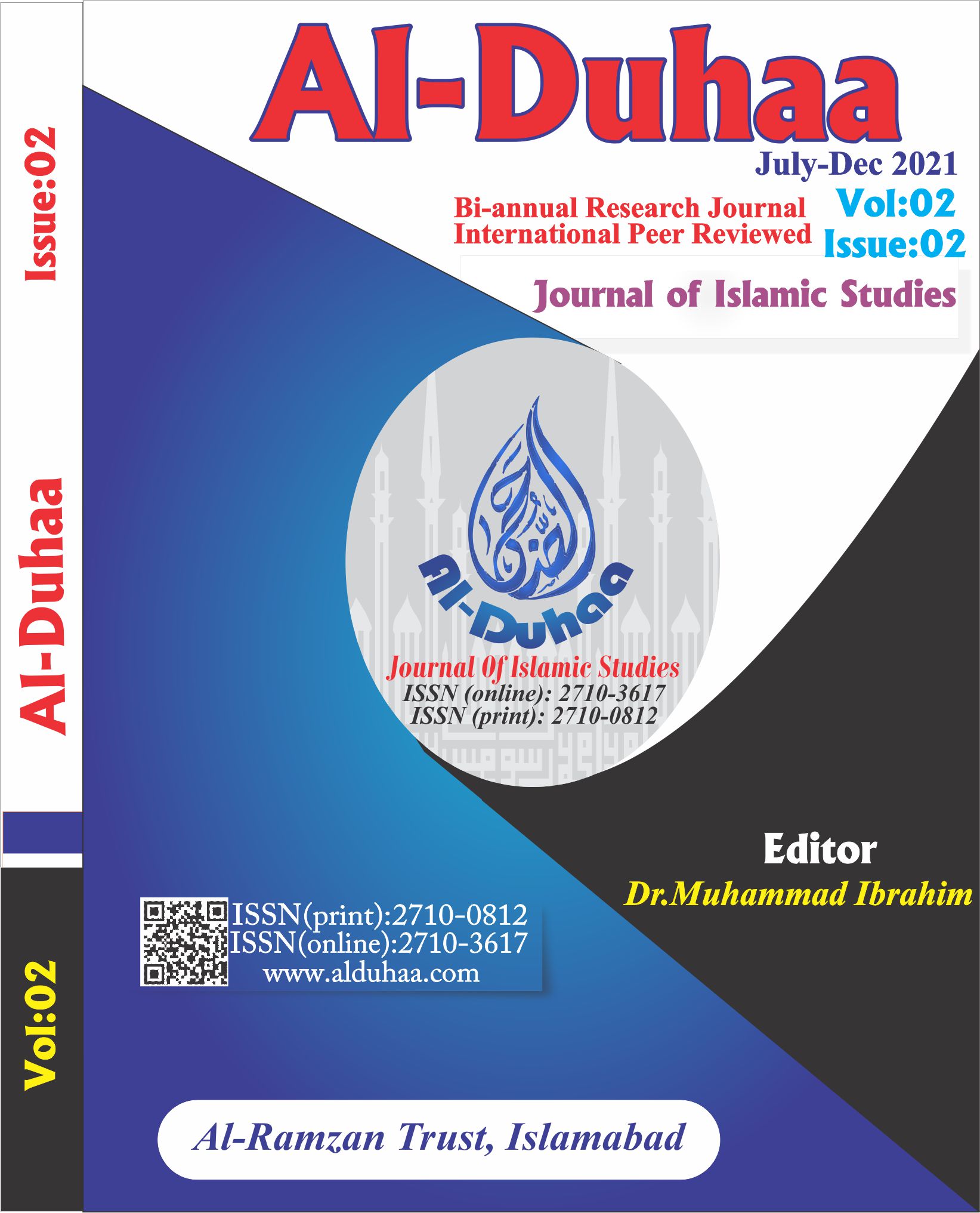 Downloads
How to Cite
Malik, B. A. ., Tariq , D.- ud-D. ., & Moazzam , R. M. . (2021). قاضی فتح اللہ صدیقی شطاری اور ان کی کتاب ''خزائن فتحیۃ الاسرار'':تجزیاتی مطالعہ: Qazi Fathullah Siddiqi Shattari and his representative book Khzain Fathiyat ul Asrar An Analytical study. Al-Duhaa, 2(02), 157–170. https://doi.org/10.51665/al-duhaa.002.02.0104
License
Copyright (c) 2021 Al-Duhaa
This work is licensed under a Creative Commons Attribution 4.0 International License.