استحسان :تعارف،تاریخی ارتقاءاورمصدری نوعیت (تحقیقی جائزہ)
ISTIHSAN INTRODUCTION, HISTORICAL EVOLUTION AND ITS ORIGIN (Research Analysis)
Keywords:
Keywords: Sharia Laws, Istihsan, orientalists, Ulema e Ahnaf, 'Ahle Raey'
Abstract
The rapid advancements in today's world necessitate to look into the underlying sources of Sharia laws in a manner that helps to find out solutions to our everyday matters raised in the modern world. In addition, it should also assist the nation to avail the privileges Islam has provided on the contemporary issues.
It is seen that scholars refer to the Quran, Sunnah, Ijma and Qiyas, when they are asked about any modern issue. However, when two or more statements are found about any current world affair, then whose statement will be given preference? At times confusion is created on this matter. Due to this, some elements reject the jurisprudent source 'Istihsan' blaming Ulema e Ahnaf as 'Ahle Raey' – those whose develop their personal perceptions on Quran and Hadith. And sometimes they negate its legitimacy as the source of Sharia Law.
It is true that cores in the Islamic law are limited. However, an extensive law of 'Istihsan' is there for their further elaborations, whose endorsement can be sought in the Quran, Sunnah and statements of Imams and Jurists. Hence, this article will deal with the legitimacy of Istihsan, its historical development and its status as a source of law. Moreover, the article will further present answers to the orientalists and Ulema in this concern. So that confusion of some mindsets regarding sources of law can be removed and rectified.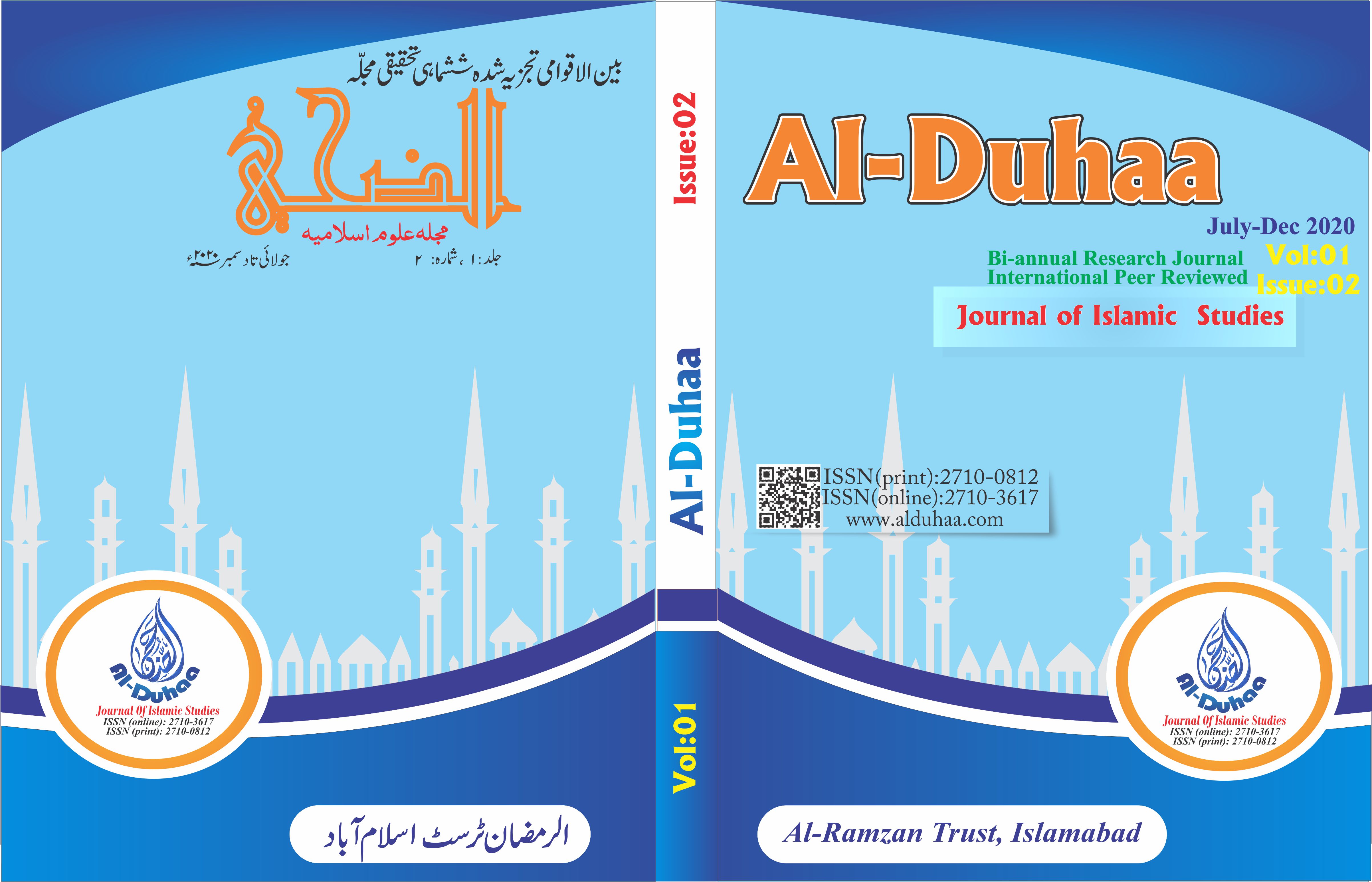 Downloads
How to Cite
Khan, M. A. ur R. ., & Khan, J. G. (2020). استحسان :تعارف،تاریخی ارتقاءاورمصدری نوعیت (تحقیقی جائزہ): ISTIHSAN INTRODUCTION, HISTORICAL EVOLUTION AND ITS ORIGIN (Research Analysis). Al-Duhaa, 1(02), 230–248. https://doi.org/10.51665/al-duhaa.001.02.0060
License
Copyright (c) 2021 Al-Duhaa
This work is licensed under a Creative Commons Attribution 4.0 International License.