"مدعی اور مدعیٰ علیہ کے گواہوں میں تعارض اور وجہ ترجیح " فتاویٰ ودودیہ کے مسائل کا شرعی و تقابلی جائزہ
"Ownership and its Ancillary Legal Verdicts of Fatāwa Wadodiya" A Critical Analysis from the Perspective of Islamic Law
Keywords:
Wali Swat, Legal, Law, Islamic law, Hukam Namī, Sharī'ah, Muslim jurists, Fatāwa Wadodiya, Legal verdicts
Abstract
Every legal system, of course, has a set of rules which is followed by its follower, both in letter and spirit.  Such rules are sometime scribed or simply put in the memories of the concerned people- technically called written and unwritten rules. The legal system, at the time of Wali Swat, had the same nature. Majority of such rules, however, were in the written form. Further, such written rules were broadly divided into formal and informal rules. Fatāwa Wadodiya , one of the greatest collection of verdicts over various socio- legal issues, was an informal document; containing legal verdicts. To put it simply, it was a codified law.  Among these, the concept of ownership and its ancillary issues i.e kind of ownership, sources of ownership, possession of property, evidences related to ownership and etc were minutely discussed.  The present work, primarily, aims to study such variety of verdicts from the perspective of Sharī'ah (Islamic law). While doing so, resort is made, firstly, to the primary sources of Islamic law i.e. the Holy Qurān and Sunnah of the Holy Prophet (SAW), followed by Ijmā   and work of the classical Muslim jurists (Fuqahā). However, in case of the work of Muslim jurists, the Hanafī  jurits' work had been cited more; owing to the fact that verdicts of the Fatāwa Wadodiya were based on the principles of the same school.  Study reveals, with solid evidences, that the provisions of this book were based on the principles of Sharī'ah. To investigate the issue scientifically, content analysis technique of the qualitative research was followed; where the available secondary data had been critically analyzed.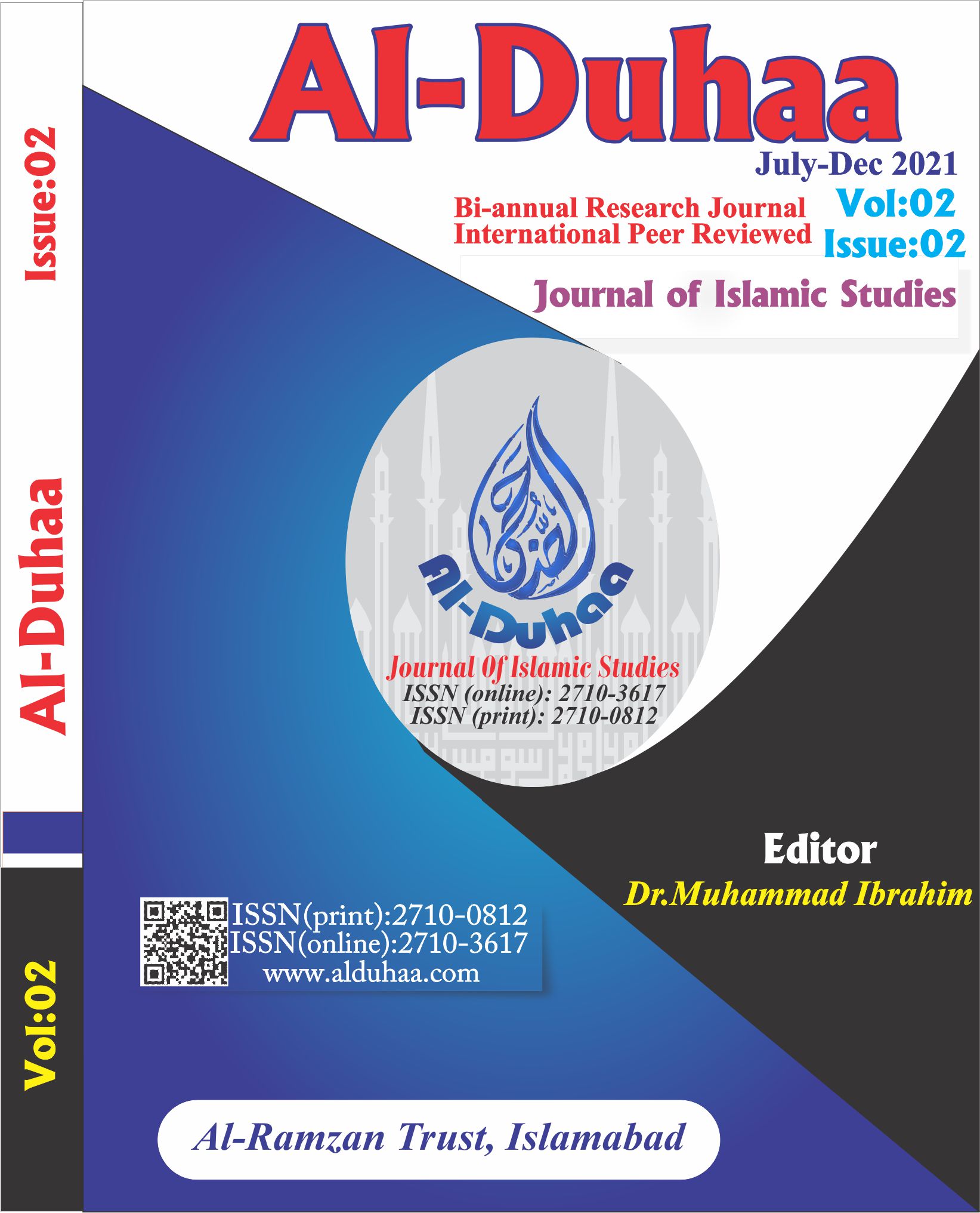 Downloads
How to Cite
Ullah, S., Saqib, D. L. ., & Qazi, S. . (2021). "مدعی اور مدعیٰ علیہ کے گواہوں میں تعارض اور وجہ ترجیح " فتاویٰ ودودیہ کے مسائل کا شرعی و تقابلی جائزہ: "Ownership and its Ancillary Legal Verdicts of Fatāwa Wadodiya" A Critical Analysis from the Perspective of Islamic Law. Al-Duhaa, 2(02), 411–430. https://doi.org/10.51665/al-duhaa.002.02.0203
License
Copyright (c) 2021 Al-Duhaa
This work is licensed under a Creative Commons Attribution 4.0 International License.