ارض مقدسہ کے قرآنی آثار اور مولانا ڈاکٹر سیدشیر علی شاہ مدنیؒ کے مشاہدات کا مطالعہ
Study of Quranic Places of Holy Land and observations of Maulana Dr. Syed Sher Ali Shah Madani
Keywords:
Dr. Sheri Ali Shah, Akora Khattak, Dar-ul-uloom Haqqania, Ardh-e-Muqaddasa, Quran
Abstract
Ardhe-e-Quran (The Land and Nation in the Quran) is one of the major parts of Quranic studies which means the description of those lands or nations in the Quran which have been traveled and observed. The Shariah scholars of the Muslim world whether classical or contemporary have made these observations of "Ardhe-e-Quran".  In this regard, the scholars of India have also made a significant contribution. Travel of the pass-outs of Jamia Dar-ul-Uloom Haqqania to these places and cities is also a part of this series. Especially Maulana Sher Ali Shah has lived in Arab countries and then he has made a regular journey to these places mentioned in the Qur'an. He observed Qur'anic places from Baitullah to Baitul Muqaddas.His travelogues, especially regarding Syria, contain useful information. The land of Syria is the blessed land, here is Jerusalem, in which Allah Almighty has created spiritual and spiritual charm when Maulana Dr. Sher Ali Shah visited this blessed city. He toured the city and observed the Quranic places. Maulana Dr. Sher Ali Shah went on Hajj by land on foot in 1966. After receiving permission from the embassies of Iran, Jordan, and Iraq, he reached Haramain on his way. After entering Iraq on January 2, 1967, he arrived in Baghdad, stayed there, and toured historical sites, then went to Jerusalem and observed the holy places there.
The golden impressions of this journey, the observations of the historical places and the details of Hajj he has written under the title of "Chand din Masjid Aqsa ki Fidhaon me (A few days in spiritual surroundings of Al-Aqsa Mosque)" and "In the luminous surroundings of the Harmain". In these journeys, He also observed the land of the Qur'an and the holy places, besides ancient libraries and Makhtootat.
Maulana Dr. Saeed-ul-Haq Jadoon and Mufti Bakht Shaid have written a two-volume book on the life and services of Maulana Sher Ali Shah Madani entitled "Maulana Sher Ali Madani: Life and services". In this book, Maulana Dr. Saeed-ul-Haq Jadoon has written a separate chapter on the "Observations and research on Ardh-e-Quran by Dr. Sher Ali Shah". In which Maulana Sher Ali Shah Madani has given a detailed discussion on these observations. In this regard, the researcher has intended to enlighten his analytical study on the topic of Ardh-e-Quran.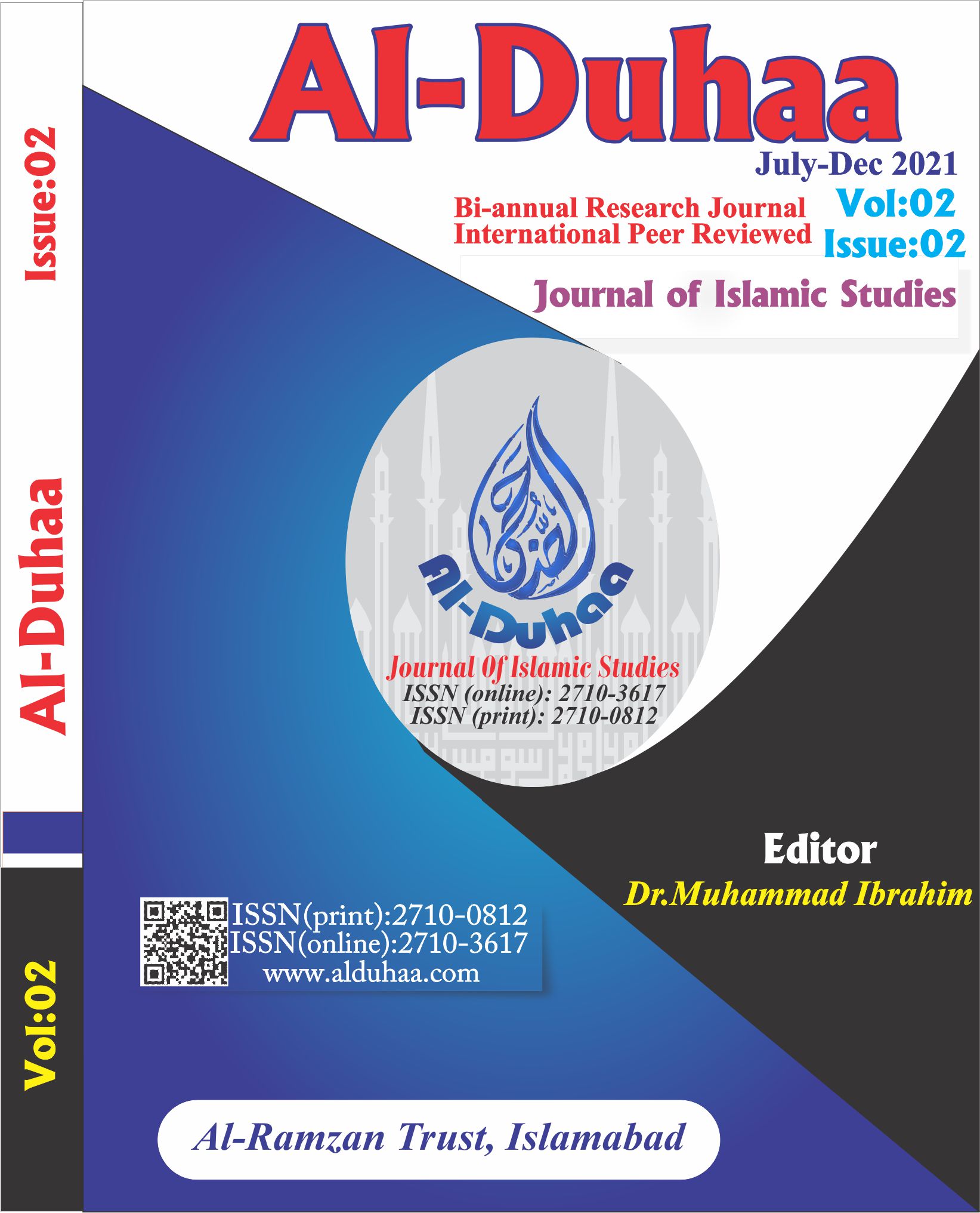 Downloads
How to Cite
Khan, I. ali, & Khan, S. ur R. (2021). ارض مقدسہ کے قرآنی آثار اور مولانا ڈاکٹر سیدشیر علی شاہ مدنیؒ کے مشاہدات کا مطالعہ: Study of Quranic Places of Holy Land and observations of Maulana Dr. Syed Sher Ali Shah Madani. Al-Duhaa, 2(02), 259–273. https://doi.org/10.51665/al-duhaa.002.02.0130
License
Copyright (c) 2021 Al-Duhaa
This work is licensed under a Creative Commons Attribution 4.0 International License.